Tipica'73: A Salsa Profile
Written by Tommy Muriel for
"Oasis Salsero"




[Pictured above: Tipica's Original crew in 1973: (left to right, from top) Adalberto Santiago, Leopoldo Pineda, Sonny Bravo, Johnny Rodriguez, Rene Lopez and Joe Manozzi, (on front row) Orestes Vilato and Dave Perez.
"The year I worked for Tipica was a very good one. I loved the group's musical variety. When they wanted to play straight ahead salsa, they'll do it good. The same goes for charanga style and Latin jazz." Tito Allen



"Playing with the band was a superb learning experience for me because besides teaching me discipline, it also broadened my musical horizons." Camilo Azuquita



"There's been some interest in reviving Tipica. The time is really better for what we were doing now. Things that we played that would never have gotten on the radio then, fits within the format now." Johnny Rodriguez



"I was approached by Johnny Rodriguez to join the band. I was excited. Tipica was one of the hottest bands in NYC. We had our own sound and we worked hard for it. (...) Sure we rehearsed. Nothing was left unmarked?" Nicky Marrero




"I became part of T?pica '73 on October 3, 1977 at El Corso night club.

I got most of my experience as musical director from T?pica 73 working with musicians like Johnny Rodriguez, Sonny Bravo, Mario Rivera, Leopoldo Pineda, Nicky Marrero, Alfredo De La Fe. All these cats were in T?pica 73. They were the maestros to me.

They came from Tito Rodriguez's band, Tito Puente, Machito, Fajardo."

Jose Alberto "El Canario"
It all started in a small club in New York called "And Vinny's." The year is 1972 and the Latin music scene was again the hot thing in town. It still had some of the early Cuban mambo influences of the Puente/Machito/Rodriguez heydays, but this was a slightly different game. As a result of the Cuban closing (and the migration of many of them to New York) and the ever-growing Puerto Rican presence into New York's Latino community, the music they'd always dance to would acquire new influences, a fresh new sound? and even a brand new name. Still danceable, of course (it had to be that way, as everything with the Caribbean seal on it), but with its own characteristics and with those of their own community (el Barrio) embedded as well. For this new generation of Latinos, their music was no longer just another dance craze just for the big ballrooms, but a way of life by itself.

Tipica'73 started from a series of jam sessions led by a young session veteran named Johnny "Dandy" Rodriguez Jr., son of another great of Latin percussion: John "La Vaca" Rodriguez, Sr. and, at that time, bongo player for Ray Barretto. Johnny: "My dad was playing at a club called 'And Vinny's' and one day he tells me the owner is interested in doing a bigger Latin night, maybe Mondays. So I talk to him and he offers me the night. I hire a few guys including, Sonny Bravo, Leopoldo Pineda, and Nelson Gonzalez and we just try to do different things, different weeks. And it's real successful crowd-wise and music-wise." Upon success on that first night, they were offered more club dates. As these sessions evolved, the guys involved in this new, yet nameless group would eventually step off from their regular working bands and start up as a regular working unit. Hence, Tipica'73 was formed from the union of Rodriguez, Jr., fellow Ray Barretto's band members Rene Lopez (trumpet), master percussionist Orestes Vilato (bongo, timbales), Dave Perez (bass) and Adalberto Santiago (vocalist), Harlow's trombonist Leopoldo Pineda, Jose Fajardo's pianist Elio Osacar (a.k.a. Sonny Bravo) and Frankie Dante's pianist/trumpeter Joseph (Joe) Manozzi.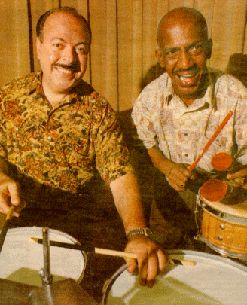 Pictured above:Tipica'73 founding members Johnny Rodriguez, Sonny Bravo (on a rehearsal session with Johnny and Tito Puente), Orestes Vilato (pictured here with Roberto Roena) and Adalberto Santiago. Photo credits: 1 and 2: Martin Cohen, http://www.congahead.com/; 3: Jose Rodriguez/El Nuevo Dia; 4: Tommy Muriel

With the blessing of Fania's president Jerry Masucci, who saw top rank potential on the group (and the presence of two original Fania All-Stars members in the lineup didn't hurt either), they recorded their first album on the Inca label, one of the many Fania subsidiaries back then. And, despite the unfavorable odds (mostly due to the fact that more than 50% of the band's personnel came from Barretto's band), it was an instant success. Sure, it was kind of logical and predictable that comparisons between Barretto's "Cocinando" band and its newly formed off-shoot would arise. But they surprised everyone with a new sound and a new concept, as they, rather than stepping on Barretto's toes (which would've been the easiest approach), they developed a traditional-yet-radical approach by blending the percussive conjunto format (Rodriguez on congas and Vilato shifting back and forth between timbales and bongo depending on the song structure) with the new salsa sonority that demanded at least one trombonist (Pineda, in this case) in the horn section. The Cuban-style two-percussionist conjunto setup was a common trend during the late 60's/early 70's. Harlow's band, for example, although it would have Manny Oquendo sitting in regularly on timbales for the recording sessions, was actually a two-percussionist band, with Phil Newsum doing the timbale/bongo shift. It's not necessarily a coincidence that Ismael Miranda's very first band, Orq. Revelacion, would use this same combination too, with Nicky Marrero as the timbale/bongo player. On his early days as a bandleader after splitting with Willie Colon, Hector Lavoe would rely on the conga/bongo combination of Milton Cardona/Eddie Montalvo and Jose Mangual Jr. for his band (it wasn't until circa 1978 when he actually hired a timbalero, Edgar Reyes, to become a regular member of the band). And then, of course, there was the case of Johnny Pacheco, whose Nuevo Tumbao (it wasn't until later in the 70's decade that he would strategically rename his conjunto as "Tumbao A?ejo"), following the structure and sound of Cuba's Sonora Matancera, would always avoid the use of a timbalero. In other words and resuming, most of the new bands in New York during the period between 1971 and 1976 would use the conjunto structure (with only two percussionists in the rhythm section), and Tipica'73 wasn't the exception. However, it's worth noting that Tipica'73 would become a driving force (if not the driving force) of the 'criollo' movement of the early 70's salsa. And, unlike other New York conjunto-based groups from that era who either migrated to the progressive sounds imposed by Best Replica Cartier Watches Willie Colon and Eddie Palmieri or just simply stuck there on the old Cuban songbook, Tipica eventually came up with another option no one dared to explore: experimenting with the new trends in Cuban music, such as songo and what then was called "Onda Areito." (Puerto Rican based groups like those led by Roberto Roena, Bobby Valentin and Rafael Cortijo himself would also come out with fresher, innovative approaches, but that's theme for another essay.) They'd also experiment with jazz, fusion and even rock elements later in the decade.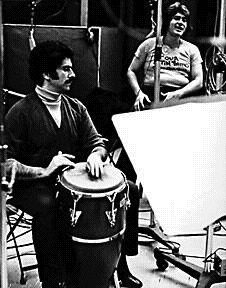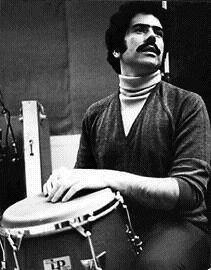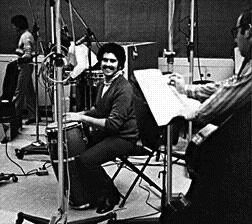 Adalberto, leader Johnny Rodriguez, and bassist Dave Perez during Tipica's first recording session (photos from Martin Cohen's collection).
From their very beginnings, Tipica'73 will focus on the Cuban side of what was now called salsa, by bringing back elements of the guajira, pachanga, son montuno, mozambique and Guaguanco and presenting them within the new trend, but respecting their traditional structure. And for their first album, "Tipica'73," they brought in plenty of evidence of their versatility in songs like "Oye Mi Guajira," the standard "Son De La Loma," "No Volver?," Vilato's original "Acere Bonko" and Arsenio Rodriguez's "Tintorera" (as most of his signature tunes, this one has a very particular double-entendre theme; Larry Harlow explains this on an interview by David Carp published in Descarga On Line, http://www.descarga.com/). For good measure, they added a bolero medley (which Adalberto brings to life flawlessly), and even surprised everybody with a jazz-tinged bolero version of "What Are You Doing The Rest Of Your Life," where lead trumpeter Rene Lopez handles the vocal duties. The lead singles of this album were the opener "Ma?o?o," a straight-ahead salsa tune, the brass section showcase "No Volver?" and "Descarga'73," a vehicle for Orestes Vilato's undisputed virtuosity on timbales. Johnny Pacheco was the producer, although unlike other dates he'd produce for other Fania artists, here he didn't need to give too much of an input. Not with the top cats involved here and the raw energy they delivered in this session, only matched or surpassed by their own performances on stage. Still today, Tipica'73's first album is one of the best selling albums in Fania's catalog.
Tipica'73 promotional photo from 1974. Nelson Gonzalez (front row, seated at right) joins the original crew that year. Photo courtesy of Fania Records.

Their sophomore album, curiously also titled "Tipica'73," followed almost exactly the same formula of their debut album, although enhancing the Cuban flavor with the addition of tres virtuoso Nelson Gonzalez, who rapidly became a crucial member of the band. Gonzalez, although being part of the And Vinny's' jam sessions from which this band evolved, didn't join the band formally until 1974, year when Ismael Miranda's Orq. Revelacion, where he was the co-musical director, folded. Although, once again, a straight-ahead salsa tune (the opener "Asi No Se Quiere A Nadie") was chosen as the lead off single, the real hit from this album was "Amalia Batista." Originally a Cuban standard made famous by Rolando La Serie, this guaracha gets a rare twist in Tipica's version, as at half tune and after Sonny Bravo's piano solo, Sonny himself blends in some scat vocals, trading bars with trumpeter Manozzi, whose solos are kind of twisted with a baritone effect as well. Adalberto joins the spoof with a trombone impersonation and, to top it all, Nelson and Orestes do a mocking parody of several well-known American scene icons, all this on top of a typical Cuban style montuno. (On their live presentations, they'll even expand on this feature by blending in parodies of American musicals and even Top 10 pop hits like "Louie, Louie.") In yet another proof or their radical approach to this album, the closing tune, a Cuban style jam (descarga) showcasing Nelson's tres and Vilato's timbales was published under a very subtle title? "Watergate" (anyone here remembers Richard "I Quit" Nixon? I don't? I wasn't even in kindergarten when all that exploded). The emphasis on Cuban guaracha and son styles, rather than the already common urban salsa approach, and their insistence on developing a more "criollo" sound within salsa's basic structure on this album are more radical proof, and, as well, a hint on what would be their approach for their subsequent releases. The outcome of this album resulted in even more growing popularity for the band, as they began to tour outside the U. S. In fact, they were engaged as an opening act for the Fania All-Stars, although, curiously, Vilato and Adalberto, who were founding members of the label's stellar band, were no longer included in the All-Star cast? for a while. I wonder if Barretto ever had something to do on that regard, as I learned that he (naturally) was clearly upset with them after losing them and half of his crew in the process of founding Tipica. Have you ever paid a close attention to the lyrics of Barretto's "Indestructible?" To close this chapter, here are a few words by Adalberto on the process of stepping down from Barretto's band and founding Tipica, translated: "It was disheartening for all of us. We (referring to Johnny, Orestes, Rene, Dave Perez and him) let him know about the forming of the new band, but he thought it was only our way of asking for a raise. He never thought we were actually leaving (his group). But, at least in my case, I left all doors open?"

1975 marked a turning point in Tipica'73's career as a unit. This is the year when they record what, for most critics and fans, is the masterpiece of that first band: "La Candela." On this landmark album, Tipica'73 would achieve a series of firsts in salsa music. At this point, Sonny Bravo takes over the band's lead arranger role, as Johnny "Dandy" Rodriguez begins a series of musical exchanges with Cuban musicians still living in Cuba, like the legendary Francisco "Pancho" Fellove (the creator of "Mango Mangue") and Los Van Van's leader Juan Formell. Thus, they were already announcing the next level in the band's evolution: New York salsa meets the new Cuban songbook: Los Van Van, Ritmo Oriental, Irakere, Elio Reve. This would also suggest major changes in the band's orientation, not to mention that, in order to advance to this next level, some major changes to the band's instrumentation could (and eventually, as we'll see, would) be needed. Although the musicians and instrumentation for this album were basically the same as those on the previous albums, the approach was slightly different. On one hand, half of the album remains true to Tipica's already established sound, as in tunes like the opener "Canuto," the son montuno "Te Llevo Conmigo" (here approached in its traditional form), the bolero "No Somos Nada" and especially the straight ahead salsa tune "Los Santeros," a composition by Vilato. On the other hand, the current cast of Tipica is already flirting with the experimental sounds of Onda Areito in the remaining half of the album: Fellove's "El Jamaiquino" (with Gonzalez using distortion effects and pedals with his tres), "No Me Critiques" (a hell of a tune where Manozzi, Lopez and Pineda are doubled for a frenetic four trumpets/two trombones jam a la Palmieri), "La Escoba Barrendera" and, especially, the title track, which features a synthesizer solo by Bravo and a spectacular timbale journey by the maestro Vilato. Besides the innovative use of synthesizers and electric guitar pedals in the band's setup (and Vilato applying a bass drum to his timbales setup, a la Nicky Marrero), this album marked the first time ever, at least for the salsa world, that bata drums were introduced as an integral part of secular music. Sure, it's legal to argue that Tito Puente was already using them on "Mi Chiquita Quiere Bembe" (from his landmark 1957 album "Dance Mania" on RCA), but, while for this arrangement the band actually stops as master drummer Francisco Aguabella and company set the 6/8 toque, on Tipica's side the lead bata drum or iya, played masterfully by Angel "Cachete" Maldonado, is actually integrated into the arrangement complementing the basic timbale/conga/guiro patterns instead of altering them. (From this album on, although Cachete wasn't a regular member of the band, he would appear on every other recording session of Tipica playing bata and quinto.) With the resurgence of charanga in New York (with Larry Harlow's hit "La Cartera," Orq. Broadway and Tipica Novel leading the pack), Bravo and Rodriguez seemed that integrating the flute and a violin into the band would go great with the new direction in the band. But not everybody welcomed that idea, or the new direction that the band was already taking. Apparently, other factors were also involved, as told by Adalberto: "Some guys wouldn't go along with the other guys' culture, Joe Manozzi, for example, was Italian. And there were other interests involved, like Santeria and stuff like that. So, we split." Adalberto, Vilato, Gonzalez and Manozzi stepped out to form Los Kimbos, along with trumpeter Roberto Rodriguez (who was now available after Barretto decided to dismiss his band in 1976 and try a solo career in fusion jazz), Reynaldo Jorge, virtuoso guitarist Harry Viggiano, Eddie Montalvo on congas, Sal Cuevas on bass and the then newcomer Pablo Dominguez on second trumpet (Manozzi switched to piano ever since). This new band, however, would eventually split in three after Vilato's decision of registering the band under his name. Thus, from this band evolved Adalberto Santiago and his orchestra, Nelson Gonzalez and his orchestra, and a new version of Vilato & Los Kimbos. Vilato, by the way, was already being sought after by rock legend Carlos Santana as soon as he left Tipica, a proposal that he turned down initially, as he just formed the original Kimbos band. Santana, who spotted Vilato precisely at one of Los Kimbos' first gigs in New York, became an avid fan of his explosive, witty style on timbales, finding on him the perfect replacement for Jose "Chepito" Areas, who was leaving Santana after serious health problems. After another series of proposals, Vilato finally accepted to join the influent Latin-rock band and relocating to San Francisco, where he still lives today, in 1980.

Top: Tipica'73's off-spin from 1976: Los Kimbos. Their original cast consisted of: (top row) Eddie Montalvo, the late Roberto Rodriguez, Sal Cuevas, trumpeter Pablo Dominguez, Harry Viggiano, Reynaldo Jorge, (bottom row) Joe Manozzi, Adalberto, leader Orestes Vilato and Nelson Gonzalez. Original back cover photo from their debut album, by Lee Marshall. Down, from left:Tito Allen ( signing autographs), Cachete Maldonado, Alfredo De La Fe, Photo credits: 5: Jochi Melero, 6: http://www.cubansoul.com/, 7: http://www.alfredodelafe.com/, 8: Tommy Muriel.

As for Tipica'73, the vacant spots were filled with Cuban trumpeter Lionel Sanchez, conga virtuoso Jose "Joe" Grajales (who also doubled on timbales) and maestro Tito Allen, who already had a solo debut album ("Maldades," Inca, 1975) after leaving Ray Barretto, as the new lead vocalist. Upon Grajales' entrance, Johnny Rodriguez would now shift to bongos, the instrument he's mostly associated with. Upon Manozzi's exit, Bravo would become the new musical director and co-leader (most people still believe he was the actual band's leader and not Johnny). And, as part of the new direction in the band, virtuoso violinist Alfredo De La Fe would replace Nelson's tres spot and the legendary Gonzalo Fernandez, "Don Gonzalo" for most musicians, would join the band on flute and tenor sax. Along with the always-efficient work of Cachete Maldonado and the help of Ismael Quintana on minor percussion and coros, this is the lineup for Tipica's next album: 1976's "Rumba Caliente." A production by the late great Louie Ramirez, this transitional album yielded strong hits like "Pare Cochero" (where Don Gonzalo clearly displays his mastery of the charanga flute tradition), "Sonaremos el Tambor" (a vehicle for both Grajales and Don Gonzalo) and "Guaguanco De Los Violentos," where leader Rodriguez delivers a terrific bongo solo. Musically speaking, the task for this album was to showcase how Tipica could easily move between the charanga and conjunto formats with their new lineup. The lyrics and arrangement of "Guajira Tipica," included on this album, are a perfect example (in Spanish, then the translation):

"Hay una Orquesta, se?ores, que tiene un sonido total / Suena a charanga, suena a conjunto. Suena sensacional.

Arrancan con una rumba, salsa, guajira o bemb? / Escucha el nuevo sonido de la Tipica'73."

(Translation:) "There's an orchestra, gentlemen, which yields a total sound. (They) sound like a charanga or like a conjunto. They sound sensational. They'll start right up with a rumba, salsa, guajira or bembe. Listen to the new sound of Tipica'73."

The arrangement for this tune is typical Cuban guajira format, with Don Gonzalo wailing on flute, Sonny adding a lengthy piano solo and Grajales playing typical timbale licks a la Manny Oquendo. On other tunes, like the experimental opener "Rumba Caliente" (one of Sonny Bravo's finest early arrangements), they'll begin experimenting with Latin jazz and/or fusion moods, as evidenced in this tune's lengthy introduction (which includes a fiery solo by Rene Lopez, a trumpeter with heavy jazz influences in his playing) and on Alfredo's soloing on electric violin. This band's edition, however, wouldn't last too long, as Don Gonzalo would turn to freelancing (and later retiring briefly from the scene as a result of a sore lip, a common career screech halt for many brass players), and lead singer Tito Allen would resign to re-start his solo career. For Allen, however, his exit wouldn't have anything to do with any of the band members, but with his quest for respect and a place in the history of salsa: "It happened just the same as when I was with Barretto. It was a matter of credit. I used to sing in the local (PR) hotels and I was getting good money. I left for the U. S. looking for just that: to make a good name for myself. Some gigs, they would announce me, while in others they'd not. Then one day, on a Long Island gig, I told both Sonny and Johnny that I was leaving in two weeks." Don Gonzalo, by the way, would later become the mastermind behind the landmark album "Super Tipica De Estrellas," a charanga all-star reunion that included fellow Tipica members and/or ex-members like Sonny Bravo, Orestes Vilato, Alfredo De La Fe and Adalberto Santiago, as well as Cuban legends like Carlos "Patato" Valdez and Osvaldo "Chihuahua" Martinez.
Pictured above: Nicky Marrero and Camilo Azuquita. Photo credits: Ralph Weber/Enja Records and Eddie Kuligowski, respectively. Down: 1977 promotional photo. Back row: Dave Perez, Lionel Sanchez, Joe Grajales, and Nicky Marrero. Mid row: Camilo Azuquita, Rene Lopez, Dick Mesa, and Alfredo De La Fe. Front row: founding members Leopoldo Pineda, Sonny Bravo and Johnny Rodriguez. Photo courtesy of Fania Records.
Another former veteran soloist, Camilo Azuquita, filled his vacant spot. Azuquita, a veteran of bands like Cortijo, Kako and Louie Ramirez, already had an album his own group, Azuquita Y Su Melao ("Llego y Dijo," not yet released on CD format) prior to joining Tipica'73. As for the flute spot, Don Gonzalo would be replaced by a gentleman who not only mastered the Cuban flute idiom almost as well, but also brought in a ferocious jazz-tinged tenor sax to the mixture: the great Dick "Taco" Meza. And then, along with the changes in the band's lineup and orientation (and the new influences brought in by the newest band additions), there was an urge to broaden the rhythm section, although this also meant that the conjunto element would be lost. So, the original two-men percussion team was now enhanced with the addition of another young veteran of the salsa scene: Fania All-Stars' very own Nicky Marrero. With an already impressive resume that also included acts like Willie Colon, Eddie Palmieri, Tipica Novel, Harlow, Ismael Miranda, Machito and Dizzy Gillespie, Nicky's versatility and his mastery on both timbales and trap drums fit in right at home within Tipica's new concept. Now with a regular timbalero on board, of course, Grajales would then settle on congas and Johnny would remain a bongo player, as well as doubling on coros. This is the lineup for the band's next album (and a personal favorite): 1977's "The Two Sides of Tipica'73." With Louie Ramirez back again as the producer, this is perhaps the band's most experimental album ever, as they blend in the whole gamut: straight ahead salsa, charanga, an orchestral-tinged bolero ("Hoy"), songo a la Ritmo Oriental, Latin jazz and even a Salsa Suite. Nicky himself speaks about this album: "We were showing that we could play not only Latin music, charanga, big band, but we could play songo - that's where the drums came in. What was coming out of Cuba: Changuito (Jose Luis Quintana, the creator of songo and at the time still a member of Los Van Van) and Los Ritmo Oriental. We could play here like we could play in Cuba. We could play jazz like we could play charanga, Machito style and New York style. That's what it (the album) basically meant." Besides the danceable tracks like "La Botija de Abuelito" and Beny More's standard "Tumba Tumbador" (in fact, the album's only two singles), the rest of that album was actually a showcase for the band's cast of characters. The opening and closing tunes of this album were two instrumental Latin jazz cuts: Machito's "Bongo Fiesta," a showcase for Johnny Rodriguez's bongos that also included a tricky 19/4 mozambique bridge with solos from Meza on sax and Alfredo on violin; and Tito Rodriguez's signature track "It's A Gay World" (or "El Moldo De Las Locas," a composition by his sax player Aaron Sachs), this time a showcase for Nicky on timbales (with another rare appearance by Sonny on scat vocals). "Yo Bailo De Todo," a tune by Ritmo Oriental, is treated here to a very unusual arrangement: Nicky starts the tune with a series of percussion effects, followed by a rare trap drums solo. Then, the main theme is stated in pure salsa fashion, before entering into songo mood and then to a rock-inflected montuno featuring a monster battle between De La Fe on electric violin and guest Harry Viggiano (at this time, no longer with Los Kimbos) on electric guitar before ending on a 6/8 bata rhythm, provided by Cachete (this time, joined by Hector "El Flaco" Hernandez on itotele and either Nicky or Joe Grajales doubling on okonkolo).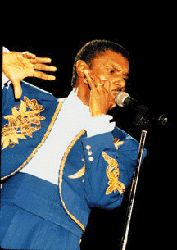 Pictured above: Mario Rivera (with Yolanda Duke and jazz icon Gato Barbieri) and Jose Alberto "El Canario." Photo credits: Yolanda Duke's home page (www.yolandaduke.com) and Mary Kent, respectively.
Azuquita exited the band briefly on October 1977, giving way to a young Dominican singer named Jose Alberto "El Canario," who, at the time, was the lead singer of Tito Rodriguez Jr.'s band. One of today's hottest acts in Latin music, El Canario not only sharpened his skills in Tipica, but also enhanced the band's sound with both his charisma and his uncommon vocal timbre, which contrasted nicely with that of Azuquita, who returned to the band a few months later. With no further changes (except for the addition of Orq. Broadway's lead singer Felo Barrios, who now joined the band on coros for the recording sessions), this is the lineup for "Salsa Encendida," the band's next album. A hot selling album, this 1978 release yielded strong hits like "Baila Que Baila" (which El Canario later re-recorded as a soloist), "Los Campeones de la Salsa" (written for them by Louie Ramirez and also sung by El Canario), "Somos Dos (Con La Mayor Elegancia)" (the only duo track in Tipica's history, sung by both singers), and a great version of Irakere's "Xiomara," with a strong rumba feel (with Cachete wailing on quinto) and Azuquita on vocals. A particularity of this album is the appearance of a merengue, "La Mujer Dominicana," sung by Azuquita. At the time, Fania just acquired a recording deal for the Dominican label Karen Records, home for acts like Wilfrido Vargas and Fernando Villalona then. And, kind of collecting on the merengue rave of those days, almost all of Fania's singers and bands included at least one merengue in their recordings as a vehicle for promotion in the neighboring island. (Tunes like Celia and Willie's "Pun Pun Catalu," Miranda's "Si No Me Quieres," Quintana's "Rico Merengon" and Pacheco's "Me Llevaron La Cartera" are other examples of this 1977-1978 Fania-meets-merengue scheme.) Although clearly more commercial than their previous release, this album also continued the increasing intensity of the band's Cuban explorations, as exemplified on "Xiomara," "Ti?a Ti?oso" and the closing track "Que Manera de Sentirme Bien," arranged here as a songo/descarga featuring Alfredo on violin and Nicky (whom we quote next, talking about this album) on timbales. "We went back to the dance format and we got a little more conservative on that album. It was successful and sold. The people liked it because it was danceable." Such was the impact of this album, in fact, that they went on a European tour (of course, after the successful presentations of Tito Puente, Machito and the Fania All-Stars opened that door for Latin bands). Curiously, it was after a tour of France that Azuquita left the band, establishing residence in that country (which he still calls home nowadays) and establishing himself as France's official salsa ambassador.
And speaking about the intensity of the band's explorations on contemporary Cuban music, this common bond between Johnny Rodriguez and some of Cuba's best musicians led to a radical adventure, as they were invited to perform in that country. The task: to record an album in Cuba with some of the best musicians in there. Of course, is not that easy, for not saying impossible, to speak about a certain group performing AND recording in Cuba without rising suspicious political inferring. Today, Ry Cooder does the same, reunites Ruben Gonzalez, Compay Segundo and some of Cuban son montuno's living legends and not only he doesn't get banned in the US, he gets a Grammy for that effort and an offer to make a movie based on it. Of course, this is now in the 90's, and not the back then in 1979's reality; when, despite cultural get-togethers like CBS' "Havana Jam," Cuban/American relationships were really tense. Knowingly, Leopoldo Pineda opposed that idea. "I always opposed to that Cuban trip. I told both Sonny and Johnny 'that little trip will cost us dearly. Were gonna be f? if we ever make that trip.' And that's what exactly happened." So, in fact, Leopoldo was out of the trip and, eventually, out of the band as he, kind of predicting the band's future, landed a more secure job with Willie Colon's orchestra. His spot on brass section was filled not by another trombonist, but by a veteran session master whose gained respect into the Latin musicians' community was unquestionable, up to a point that his code name was El Comandante (The Commander, in English): woodwinds virtuoso Mario Rivera. Also of Dominican heritage, this huge man's tour and recordings resume already included a virtual who's who of Latin music: Tito Puente, Tito Rodriguez, Machito, Dizzy Gillespie, Justo Betancourt, Cortijo, Celia Cruz, Joe Quijano, Willie Colon and Louie Ramirez, amongst many others. For yet unclear reasons, Joe Grajales didn't make that trip to Cuba either, although he never left the group. So, with The Commander on board and with Cachete on congas (and, of course, the iya bata drum) and Felo Barrios on coros, up to Cuba they went. Once again, Nicky narrates what happened there: "We were the first band to go (from here) to Cuba after 23 years more or less. The first Latin band from US. All of the screaming, we saw all the top drummers from Cuba and all the top bands. We stayed there two weeks on these lodges called "El Megano." Every day during breakfast, they would give out pieces of paper to write down bands we wanted to see. For 14 days, 5 or 6 bands would come just to play for us. Not because there was a dance, there was no dance, we were just there and each one would come and play for us. We recorded an album with some of the 'baddest' musicians there." Of course, please note that here, the word 'baddest,' an incorrect augmentative of 'bad' (the correct one is 'worst') means actually 'best' in today's hip parlance. The bad boys who Nicky refers in his quote were none other than the legendary Aristides Soto, a.k.a. Tata Guines (one of the founding fathers of modern conga drumming), tres player Ni?o Rivera, trumpet pioneer Felix Chappotin, the late legendary timbalero Guillermo Barretto, "Estrellas de Areito" founder and trombonist Juan Pablo Torres (who defected later in 1992), Orquesta Aragon's Richard Egues (master flutist), Felo Bacallao and Tony Ta?o (who also acted as the recording director for this album); and, on a cameo appearance, percussion masters Changuito, Raul "Yulo" Cardenas, Eddie Perez (not El Gran Combo's co-leader) and Pello El Afrokan (the creator of the mozambique rhythm, who is mentioned on the album but erroneously omitted in the credits). The aforementioned album's title was "Tipica'73 in Cuba, Intercambio Cultural." This masterpiece, according to Venezuelan music critic Cesar Miguel Rondon, brought salsa music to full circle, as the new sounds of top salsa musicians from the U. S. were finally exposed to the tradition of the Cuban son and rumba masters of yesterday and vice-versa. The Cuban guests, in fact, interacted seamlessly to top charts written by Sonny and Luis "Perico" Ortiz (the rumba opener "Muriendome De Risa," with Guines and Cachete laying the rhythm and solid solos by Alfredo and Rene), as well as cooperating with some charts of their own, like the great hit "Ese Animal," by Tony Ta?o. A great example of son-meets-salsa-instrumentation is presented on the hit "Un Pedacito," which showcased guests Chapottin and Ni?o Rivera, and Sonora Matancera pianist Javier Vazquez's "Lio," a charanga vehicle for Richard Egues, is enhanced by Cachete's bata drumming and Sonny's quoting of a pop standard ("Sun Goddess") in the bridge. Of course, an example of straight-ahead salsa had to be included, so Puerto Rican composer Johnny Ortiz contributed the track "Majestad Antillana," which includes a terrific solo by Sonny. Finally, Tata Guines turns loose with a solo intro to "Fiesta De Tambores" (where Mario Rivera's ferocious baritone sax gives the tune a definite be-bop jazz flavor), as well as contributes the closing tune: the descarga "Pa' Gozar," where Tipica gives way to a jam session where all the guests display their talent. Despite the overall beauty of this album, most Cubans in the U. S. saw this career move from a political point of view instead of a musical point of view. Therefore, the downhill road began for the band as censorship, persecution and eventually banning from certain Cuban-American owned clubs and media began interfering with business.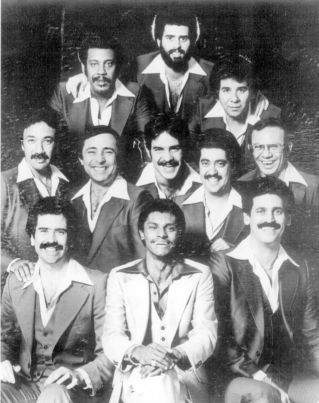 Tipica'73 promotional photo from 1980. Photo courtesy Fania Records.

Of course, this didn't prevent them from delivering quality music, as in 1980 they record another gem: "Charangueando con la Tipica'73," the band's tribute to the charanga tradition. Although virtually unheard in Puerto Rico, this album cemented the band's status as the "musicians' ensemble par excellence" in New York, at least while the Cuban pressure was still mild. Here the band included great versions of Tito Puente's "A Donde Vas" (an arrangement by Sonny Bravo, who recently re-arranged it for its original author on the album "Dancemania'99") and Cachao's "Chanchullo" (where Alfredo, Rene and the whole percussion section are showcased), as well as signature Cuban charanga standards like "Yo No Camino Mas." Even an overly recorded standard like Rafael Hernandez's "Cachita" sounded fresh and up to date in Tipica's style. For a late time surprise, this album ends with an authentic Cuban comparsa, with guest legend Mike Collazo sitting in on trap drums. On a curious note, it's worth noting that Leopoldo Pineda, although no longer a regular member of the band, contributed his trombone playing for this album.

Tipica'73 welcomed formally the 80's decade with what eventually became their last album as a unit, titled "Into the 80's." Again a danceable, 'commercial' album, this gem was loaded with special guests, like the late Latin jazz pioneer Mario Bauza, the also deceased Puerto Rican percussion icons Rafael Cortijo and Kako, singers Roberto Torres and Nestor Sanchez on coros, cuatro master Yomo Toro and pop jazz session percussionist Roger Squitero, amongst others. This is actually the only Tipica album where there is no trombone player, but with such guests and the great arrangements by Sonny, Gil Lopez, Oscar Hernandez and others, the trombone sound wasn't that much missed. The two lead singles for that album were "Tula," a charanga/songo combination featuring a wild violin solo by De La Fe and superb work by Nicky in combining traditional charanga timbale licks with songo trap drumming a la Changuito, and "Chachaguere," the tune where El Canario" records for posterity that hilarious "Popeye" comment (both tunes featuring Bauza on alto sax on what, arguably, was the late master's very last session as a player). Besides straight ahead salsa tunes like "Fascinacion" (a great arrangement by Oscar Hernandez with yet another showcase for Bravo's piano virtuosity) and "La Igualdad," and another take at traditional charanga format in "Gladys Y Manolo," the band suggested yet new musical explorations, this time outside the Cuban boundaries. At least, this is reflected in tunes like "A Pico Y Pala" and the closer "Llevatela." The first one is a tune by veteran Italo-Boricua trova singer Tony Croatto (ex-Haciendo Punto En Otro Son) where Tipica blends trova lyrics, Yomo's tasty cuatro "de la monta?a" and Cortijo's patented new bomba pattern, with jazz trap drums backing the congas (barriles) foundation, layered here by Kako and Cortijo himself (arguably as well, this was both masters' first and last session together since their landmark "Ritmos Callejeros" 60's collaboration). The closing tune, on the other hand, blends in Cachete's bata and Brazilian effects and percussion (provided by Squitero) with traditional salsa, with Alfredo's pyrotechnics on electric violin as the cake's icing. They even took another take on Dominican merengue (on its traditional format) on "El Humito," a tune with a very hilarious double-entendre where El Canario showcases his own Dominican heritage. Unfortunately, the Cuban pressure was becoming too much for the band and its members, as New York dance halls and clubs managed by Cuban impresarios began closing the doors on them as a response to the band's pilgrimage to the other side of the cane curtain in 1979. As a combined result of this and pressure by the exiled Cuban-American community, other clubs also began avoiding contracts with them, fearing a profit loss or even a boycott. And, sad as it was, both Sonny and Johnny decided to dissolve the band in 1982, as some of the band's key members began their exodus in search of solid ground, including Jose Alberto "El Canario," who, after two solo shots, landed briefly on Louie Ramirez's "Noche Caliente" band before going solo again. Sonny: "At a time we didn't even have a lead singer. And then Tito Allen returned. But the group days were already numbered by then." Johnny: "Our going to Cuba turned a lot of people off. They saw the trip politically; we saw it musically. Even in New York they were turned off. It was hard. We started getting less and less work. A couple of guys left looking for other gigs and little by little it just fell apart." Both Johnny and Mario Rivera found immediate steady work in Tito Puente's organization, where they both crossed paths sometime in the 60's as well. Nicky Marrero, who also landed some big shows with Puente, returned briefly to Willie Colon's band before joining Jorge Dalto, Art Webb, Sal Cuevas and Patato Valdez on "The Interamerican Band," one of the very best Latin jazz ensembles ever (curiously, as Vilato's Santana case, Nicky also worked briefly for a major rock band as well: Steely Dan). Sonny Bravo became a freelance musician until 1985, when he replaced Dalto on Puente's band (Bravo recorded a few sides with Conjunto Clasico as well). Another "most wanted" on Puente's hit list, Alfredo De La Fe became one of the original members of the legendary bandleader's "Latin Jazz Ensemble" before establishing in Colombia, as a result of a series of serious legal issues still pending for him on the federal courts (and that's as much as I can tell, since this has been a "musicians' secret" for years and I'm not the one who'll make it public). Tito Allen, as "El Canario," became a frequent collaborator for Ramirez, while at the same time recording sporadic solo dates and a brief pairing with Ralphie Santi's band; all this before relocating to Puerto Rico, where he lives today. Cachete Maldonado, inspired by the Cuban musical experience of 1979, relocated to Puerto Rico and started a new group who would revolutionize the Latin music scene in that country: Batacumbele. Bassist Dave Perez would also migrate to Latin jazz world, but with Machito's Orchestra, as did trumpeter Lionel Sanchez (who, later, as Machito passed away, joined Adalberto Santiago's band). Finally, conguero Jose Grajales, Dick Mesa and Rene Lopez became freelance musicians before virtually disappearing from the scene.
Above: part of the 1999 edition of Tipica'73, on a photo session prior to their April 16 concert in Puerto Rico: from top left: Cachete Maldonado, Camilo Azuquita, Adalberto Santiago, Sonny Bravo, Leopoldo Pineda, Tito Allen and Nelson Gonzalez. On front, Nicky Marrero on bongos and "El Canario" on conga. (This photo by Jose Rodriguez/El Nuevo)

Until 1995, this would have been the end of this essay on Tipica'73, but a successful Puerto Rico concert reunion of some of the band members (Johnny, Sonny, Nicky, Nelson, Leopoldo, Cachete, Adalberto and Tito Allen) led to a series of follow-ups in 1999, ending with a 25th anniversary concert in April 16, where all the band's four singers, as well as the musicians listed above, coincided on stage for the first time in years. That concert was recorded digitally and, hopefully, an album with songs from that event will be out before the end of this millennium. So who knows, there may be another chapter yet to write for the Musicians' Musicians Band. It may hardly become a full-time venture again (I don't think Sonny, Johnny and Mario, just for mentioning three of the key members, would abandon a secure job with Tito Puente to join in such a venture), but there might be a slight possibility. Until then, thank you all for the memories. And thank you for la Buena Musica. Aqu? se enciende la candela?

Bibliography for this article:


Interviews with:


? Johnny Rodriguez, by Martin Cohen (http://www.congahead.com/)

? Nicky Marrero, by Louis Laffitte (Latin Beat Magazine, May 1995)

? Sonny Bravo, by Max Salazar (Latin Beat Magazine, April 1995)

? *Adalberto Santiago & Tito Allen, by Jaime Torres-Torres (El Nuevo Dia, September 29, 1995)




? *Tipica'73 members, by Jaime Torres-Torres (El Nuevo Dia, April 16, 1999)


? Jose Alberto "El Canario," by Mary Kent (www.digido.com/mkweb)

? Informal chat with both Tito Allen and Adalberto Santiago at 1999's Dia Nacional De La Salsa at Juan Ramon Loubriel Stadium, Bayamon PR, by Tommy Muriel and John Mendoza


[* Note: the interviews with an asterisk (*) preceding them were done in Spanish. Translations for this article by Tommy Muriel]

Additional references for this article:


? "El Libro De La Salsa," by Cesar Miguel Rondon (Venezuela, 1979)


? "Swing Latino, Gente Caribe, Vol. 1," by Angel Mendez (Venezuela, 1985)